Hello, dear readers. Just a quick post to let you know of a couple of recent publications you might want to get your eyes/hands/paws/tentacles on:
I have just reviewed Wayne Macauley's new book Some Tests for The Lifted Brow Review of Books.
A short story of mine called 'Corrango' is in the new Island, the bumper 150th issue. A subscription to Island is less than $50 these days and it's a beautiful magazine – I mean look at this cover art by Tricky Walsh and the incredible list of contributors:
This is not a publication but I was on a panel at the Melbourne International Film Festival a couple of weeks ago – Overland collaborated with MIFF to hold a discussion about dystopias in Australian books and film, inspired by a story we published back in 1972 called Crabs by a young fellow named Peter Carey. MIFF screened the film adaptation of the story, Dead End Drive-In – a cult classic. In our next issue, Overland will republish the story with a special extra treat attached for our readers. I thoroughly enjoyed being involved in a discussion that crossed from film to literature and back again. I'm told the panel footage will be available online, so I will post a link to it here when that happens. Meanwhile here is a photo taken by MIFF photographer Damian Sullivan: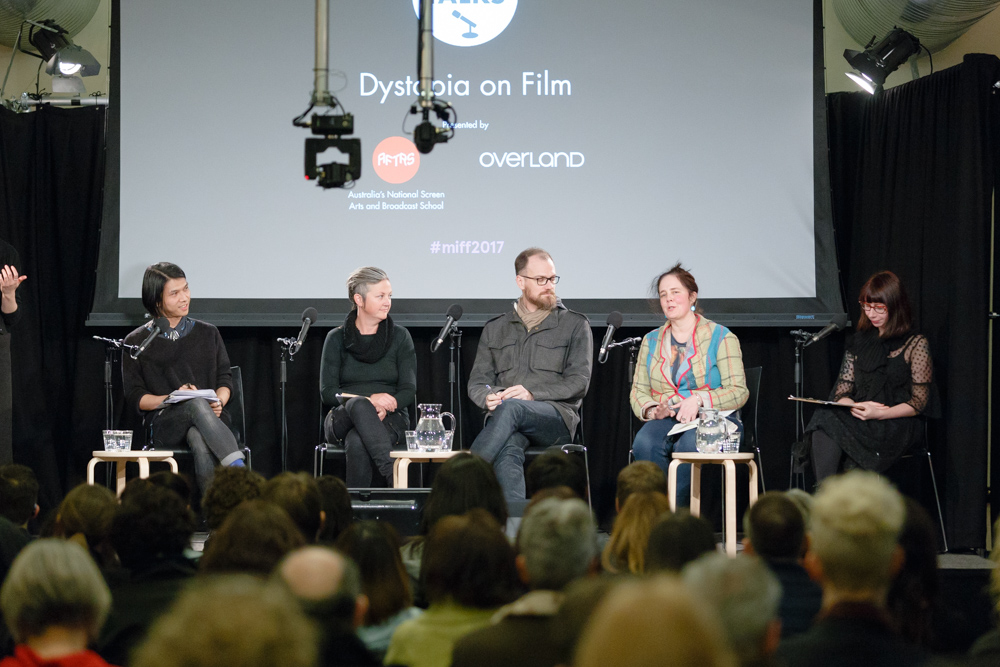 That's (L-R) ghostly hand of a hardworking Auslan interpreter; facilitator and editor of Metro Adolfo Aranjuez; me; filmmaker Ben Lucas; writer Claire Corbett; and film guru Alex Heller-Nicholas.
I managed to catch a couple of films while I was there, including fellow panelist Ben Lucas' excellent sci-fi thriller OtherLife (set in Perth!) – I highly recommend that one. My other favourite was Liu Jian's brilliant Have A Nice Day, an animated story of ordinary people and small-time gangsters in contemporary China. It is very bleak and very funny. It made me a little homesick for Beijing.
Aside from these exciting engagements my life has been mostly read/write/eat/sleep/repeat. Winter feels much too long here even though I spent two weeks of it having a delightful holiday in Far North Queensland and even though it is about 20 degrees warmer here than it is during a Beijing winter (it probably feels colder because my house is not warmed by government-mandated central heating). I've been judging a major book award, which involves a massive amount of reading, some of which has been illuminating… my office is crowded with a babble of novels. I've also been managing to work away at a draft of a new one of my own. It is a very incremental process. I'm a bit superstitious, so I don't want to say much about it yet except that I think it is starting to develop some muscle… I'm looking forward to taking it away to Bundanon with me in the spring.
I've also been proofreading Dyschronia – the book that has taken twice as long and so must be twice as good as the others! Dyschronia now has a publication date of (drum roll) February 2018. So that means I'm getting to the fun part of book-writing, ie. not the part where you have to write the actual book. Choosing covers and watching it take physical form in this universe and waiting to find out what other people think of it are all quite joyful parts of the process. I'll definitely be sharing more details here as they come.