Things are winding down for the year, and it appears my brain has decided to knock off early, but before it does I have managed to come to the end of a first-ish draft of the new book. Granted, it is mostly scaffolding, but now at least I feel capable of building something. I was thinking this morning about short stories and how pleasant it is that you almost always feel equal to the task of finishing them. It makes a happy change from novels, which are nothing if not overwhelming. Which I suppose is why we pave the way with tiny milestones, and call them drafts.
Granted, I was thinking all that apropos of a particular short story, which I haven't managed to finish all year. So there are exceptions.



I have managed to finish quite a few though. I'm in Best Australian Stories 2011 which is a fantastic anthology edited by the ever-generous Cate Kennedy, go and get it if you haven't already, and if you have, buy it as a gift. Aside from myself there are some excellent voices in there, both familiar and new.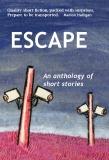 I also have a story in Escape, the new anthology from Spineless Wonders, which I urge you to buy – it's a brilliant anthology but also a great publishing startup which deserves support and a broad readership. Of the many changes in the industry this year the emergence of a dedicated short fiction publisher must not pass without applause, so… three cheers! *applauds*
Fourth and fifth cheers go to the many women and men who are doing something about all the gender bias in the business – most notably, the Stella Prize and this wonderful reading challenge. Readers and bloggers, it's down to you.
2012 will be fairly busy, but without the major upheaval of moving states thrown into the mix, and with the still-astonishing good fortune of a grant from Ozco, so also hopefully a little less stressful. I'm planning to work on this book throughout, if the scaff holds. But halfway through I'll also have a book of short stories out through UQP. The collection is entitled 'The Rest is Weight' and the title story will be appearing in Meanjin early in the new year. The book will be out in about June.
And if that's not enough to be getting along with, I'll be undertaking residencies at Booranga and Bundanon, returning to Darwin for the Wordstorm/Australian Poetry festival mashup, and launching the National Year of Reading at a bunch of local libraries. All of which makes me glad to be alive.
Have a good break filled with great books.